At Soil Kings, we highly value feedback from all of our clients as we strive to provide fantastic customer service and high-quality landscaping products. Take a look at past review and testimonials left by happy Soil Kings customers, or leave one of your own!

Testimonials
Hello,
We ordered 1 yard of round washed 20mm from you, delivered on Saturday morning. When looking at it, the load seemed like not a full yard, so I called Steve and told him that it looked small. Steve is always so kind on the phone and he was able to give us a discount on a second yard that we picked up from your shop. This small discount may not break you guys, but it sure makes a big difference in the customer service department. I already enjoy working with Soil Kings, your prices are the best, delivery is always early or right on time, and the product is always clean and good quality. Thank you for going the extra "yard" for a loyal customer, I will definitely be back in the future for my small and large projects.
Sincerely,
Jamie and Mark
Garden Gnomes YYC
---
Hi,
Just wanted to pass my compliments for great service and good production. I order 5 yds of the black mulch for next day delivery, the driver was here first thing in the morning. Appreciated the order confirmation calls as well. I will be using your service in the near future for my 20mm washed round rock order.
Thanks
–Lee Cameron
---
It's a pleasant surprise dealing with a company that actually cares. The gravel is in and my wife is happy. Thank the crew your company has managed to pull together. Great job all the way around.
Thanks
–Shawn Creamer
---
The tailings are ideal for our purposes at the Wildlife Rehab Centre and appreciate your prompt service. Thanks
–Jim Rainkie, Calgary Wildlife Rehab Society
---
All went great with the delivery last week and we are impressed with the soil!
Just wanted to say thank you again and we will be a returning customer as we are able as we wish to keep improving our facility.
–Best regards, Alan Heikoop on behalf of CRAMS
---
Thank you so much for your assistance yesterday. We really appreciated your helpfulness, availability, and flexibility in supplying loam for our community rink berm. We had a narrow window to work with before the rain came, and we were able to complete the project in large part due to Soil Kings' great service. It was much appreciated!
Thanks,
–Dan, Director of Springbank Hill Community Association
---
Thank you very much!
Your customer service is top notch. I order material one day and it is ready and delivered next day. You really have your business organized. I am always impressed by your business. Thank you again, will definitely do business again soon.
Regards,
–Jamie N., Garden Gnomes Landscapes YYC
---
"I want to be VERY plain and straightforward here: the truck load of 70-30 mix was delivered on time and placed perfectly yesterday morning.
The product exceeded my already high expectations, upon further examination. The mixing was thorough and the uniformity of texture was quite superb.
Being a 'dirtguy', it was … well … "exciting" to me to finally be able to significantly upgrade the topsoil of my yard in Canyon Meadows.
When my neighbour, with whom I was splitting the load, came out he was was also equally impressed!
We spent a significant part of the day barrowing the mix into our respective yards.
I have no doubt whatsoever that the topsoil will assist in the growth of our garden and decorative flower beds! Both my neighbour and I commented as to why we had not brought in such a good topsoil mix years before!"
—Peter Ojamaa, President and Senior Scientist
Infotech Land Services Inc
[testimonial taken word for word from email sent by Peter]
---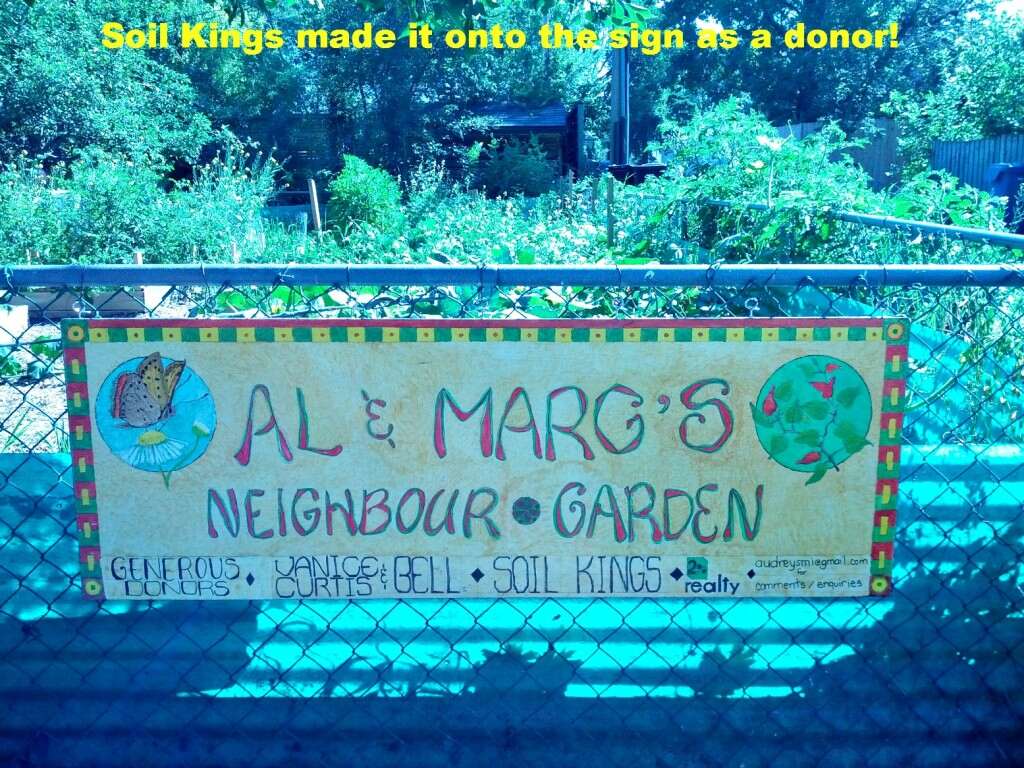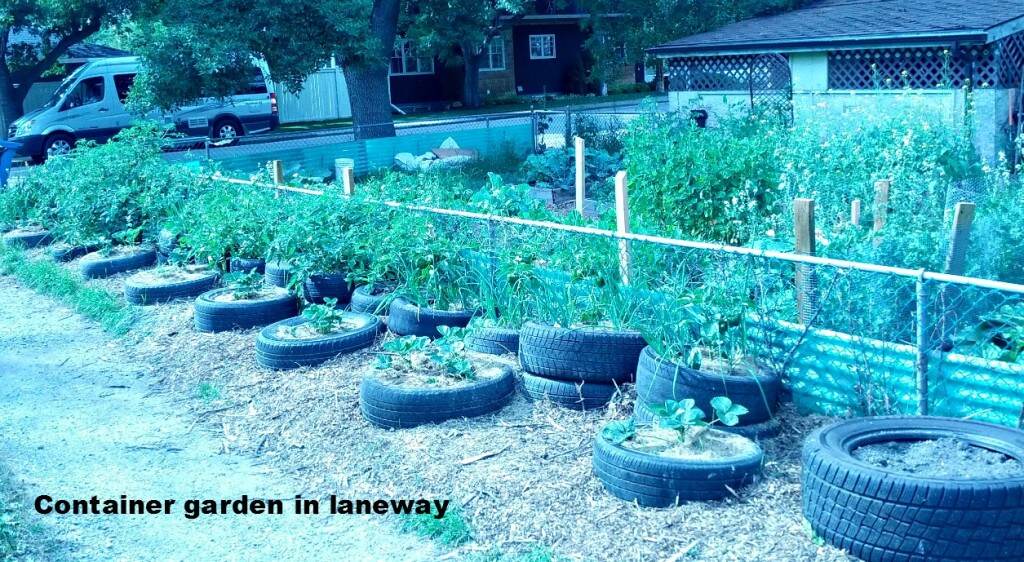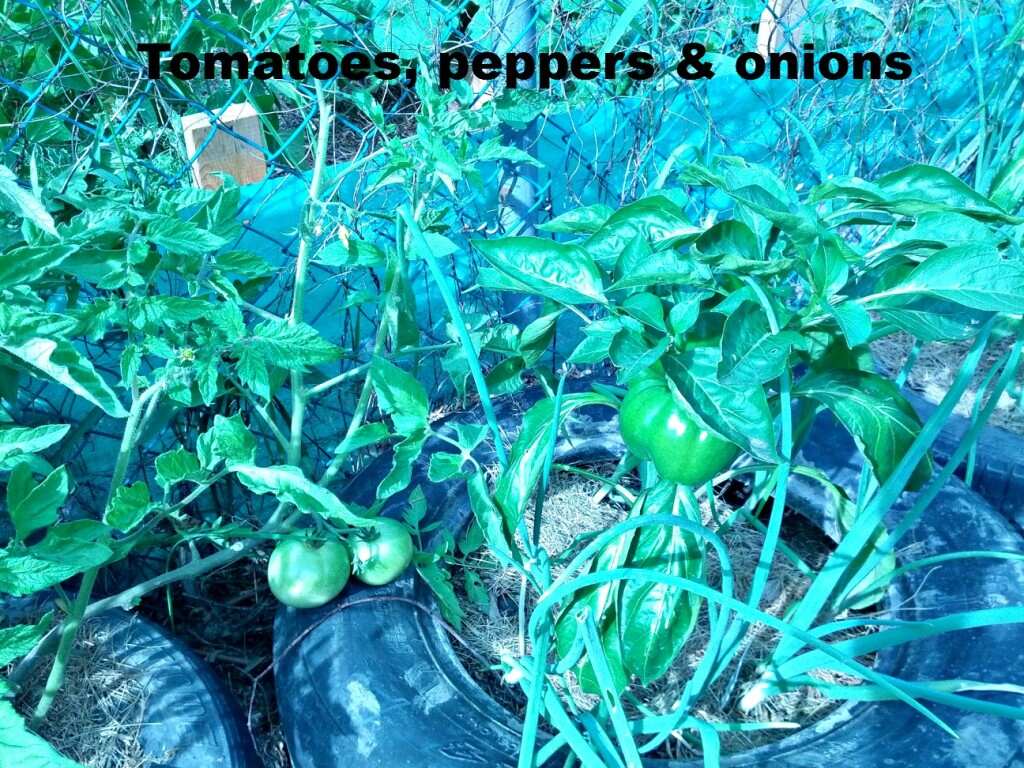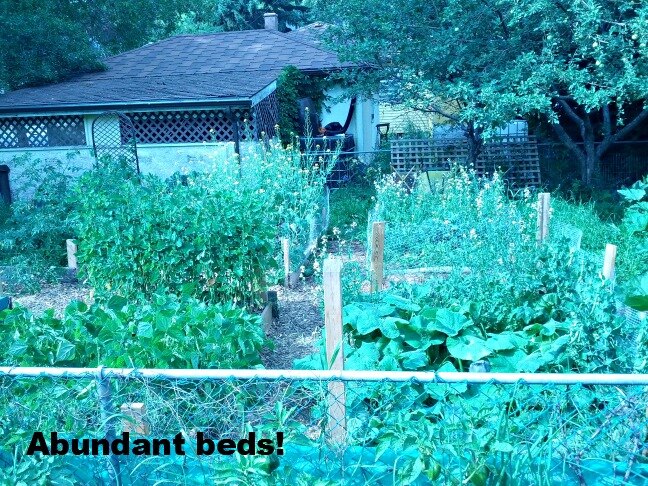 Our thanks to Audrey Smith for providing photos of her garden which used Soil Kings garden mixes!
---
Just want to pass on a kudos to your company for a good product at a competitive price accurate prompt delivery and friendly staff.
Will definitely recommend you to all of our Chestermere friends.
Thanks
Kenton Sommerfeld
---
So there was plenty of great quality soil. Thanks for the service and product, I will be sure to suggest Soil Kings if anyone asks.
— Paul in Cranston
---
Just took a moment to let you know about our experience with Soil Kings:
Ordered 2 yards of Rainbow 40 mm on a Thursday afternoon. Asked for possible Friday a.m. delivery.
Order arrived Friday morning at 7:30 a.m.
Soil Kings Staff Excellent.
Soil Kings Product Excellent.
Soil Kings Pricing Excellent.
Will strongly recommend Soil Kings for landscaping materials and great customer service.
Jeff Hantos
Calgary, Alberta
---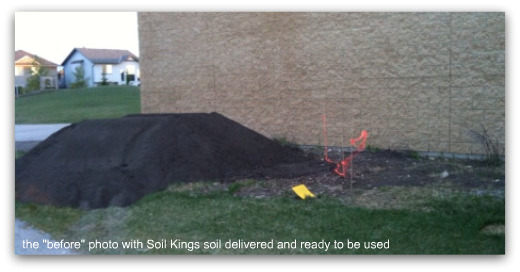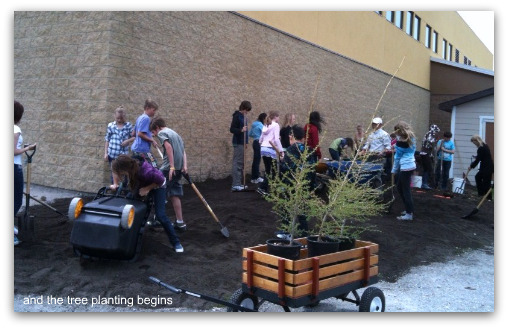 Waldorf School Students planted six paper birch trees in honour of their completion of grade six and they planted three tamarack trees in honour of our School's 25th year anniversary as a symbol of "head, heart, and hands." This is a kind of motto or guideline for the way we teach in our school. The planting of trees also tied in with a part of their grade six curriculum, the study of trees.
–Dinah Clark, Administrator of Calgary Waldorf School
I ordered some soil for the Calgary Waldorf school, which was effeciently delivered and thoughtfully placed and has been spread around a new forest of native trees planted by grade six at the school.
Our school has made a commitment to plant only native area plants and students are often out in the grounds for various curriculum subjects such as botany (grade 5) and trees (grade 6) and we have all-school participation in looking after our grounds.
Good soil is key to this up here in Cougar Ridge.
–Monique Dietrich, chair of the School Grounds Committee, Calgary Waldorf School
---
Thank you very much for your efficient delivery of the garden mix. We are very pleased with the product and your service!
With thanks,
Karen & Mike
---
We had ordered a 12 cu-yard load of loam to be delivered to our home. I thought I'd let you know that we were very impressed. Your driver arrived early this morning, and managed to back into a very tight area and drop the load. I didn't get his name, but thought you should know he did a great job.
Our neighbour is a building contractor, and he, too, was impressed with the service and price — so you might be getting further orders from him in the future.
Thank you!
Mike Levey
---
It was perfect, sod is down and being watered. In fact we could have used even more so that we had some for the front yard. Will call you if we get to that!
Thanks for being so prompt.
–Susan Auch
---
I'd like to say how excellent the soil delivery was; the soil contained
absolutely no rocks, and judging from other screened loam this was by far the best
quality and a great price. I will definitely be recommending your company.
–Dave Gardener & Jen Hietala
---
Just wanted to let you know that your KINGS premium garden mix helped me grow these beautiful flowers this year (photos below). I will be buying again next year! Thanks.
–Marlene Potter
---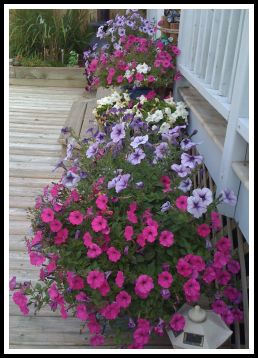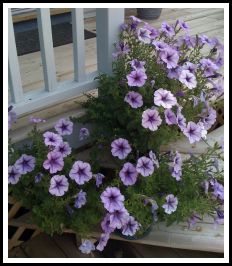 We are very pleased with the product, even to the placement in the driveway. We will recommend your company to our friends and neighbours. Thank you.
–Gerry Cramm
---
The driver delivered the soil perfectly, and it's great quality. I'm sure I will be talking to you again this summer about another load.
–Doug Demetrick
---
Thanks for the great dirt. It is really amazing dirt. There was a worm in every shovel full. The dirt didn't break down to sand when we watered it and hasn't compacted when we worked it. The price, the delivery, the service, and most important – the dirt, were all excellent.
Thanks for the great product. We are very pleased.
–Kathleen Higgins
---
Thank you Murray, the rocks are working great – started the backyard project already. You guys have been great to deal with in service and deliver very good products.
My adjacent neighbor liked the loam and were also interested in the rocks once they got a look at it.
–Gabe Chan
---
Excellent soil and service, thanks a million!
–Gerhard Barnard
---
Thanks for the wonderful service. We'll definitely recommend you guys!
–Jana Matthews
---
Yes..thank you for the receipt…all was good..delivery right smack on..time and placement great..and loved the soil mix..it is wonderful…we will be back again for more !!!
–David White
---
Thanks, Murray…the gentleman who delivered the soil was great…he delivered my order early in the morning, took great care to dump it where I wanted it, and was very polite and friendly. (I took a vacation day today so I was able to meet him when he came to my place).
My experience with Soil Kings has been excellent…I will not only use you again when I need soil, but I will not hesitate to recommend you to others.
–Jeff Bzowey
---
We just wanted to let you know what a pleasure it was to deal with Soil Kings!
Murray was extremely helpful & knowledgeable when it came to figuring out what we needed & even when there was a question with the order amount he dealt with it immediately & in such a friendly professional manner.
Thanks so much for great service! We will definitely spread the word about the efficient professional service your company provided.
–Pam & Rob
---
I just wanted to say thanks again for just the best service, even last minute Jonny on the spot, and quality material. Thank you.
–Todd Johnson
---
We received a load of soil Saturday morning. Just wanted to say I was impressed with your prompt service and quality product. The driver was also friendly and efficient. Thank you for the great service!!
–Brenda
---
First, you guys are amazing. Your customer service is top notch and the ordering process was quick and easy.
–Matthew Quintana-Kohut
---
Thanks!
Your delivery driver was friendly, very courteous and prompt. The soil I received is wonderful (topsoil and garden mix) and I am looking forward to a great gardening season thanks to Soil Kings!!!! I will be recommending you to my friends and anyone else who is looking for quality product at the best price. Thank you and well done!
Regards,
–Dianna Cherlet
---
I just wanted to say a big thank you for the soil I received on Friday. The soil looks great! Also, your driver Redai has unbelievable precision as I put down an eight by eight foot tarp, just so he had something to go by, but he managed to dump two yards of soil within that space. Passed on the Soil Kings name to a few neighbours. Excellent work, keep up the great customer service!
–Earl
---
Fantastic…as a 20year customer at B*****, I am frustrated that I didn't discover you guys sooner. Your prices, and customer service are vastly better. I'll spread the news to my network and leave a Google review for you.
Wishing you guys all the success!! You deserve it.
Great product, great price, great service….three things that we don't see very often.
–Jeff Vosburgh
---
Hello my name is Jacek and I buying compost from Soil kings by 4 years at that row this product is fantastic last year 2022 I picked over 100 kilograms of tomatoes  from my backyard I had 60 plants now my entire family buying compost from Soil Kings its work very fast and good service they provide I'm so happy
–Jacek Jastrzebski
---
Left a 5 star review on Google. Best experience ever! Thank you for being an example of amazing customer care!
–Sher
---
Thanks for the amazing service and great product. I've used Soil Kings for several projects over the past 6 years and never disappointed. Thanks again.
–Chris
---
Got a delivery of screened loam (top soil) from your company today, just beautiful soil truly fine stuff and a great delivery and great driver put it just in the right place thank you so so much!
–Bernard E.
---
Good morning,
A quick note of thanks to Rob who very efficiently delivered a mixed load today. Very polite and professional on the phone when he called to let me know the delivery time and very personable when he arrived. A great representative of Soil Kings!
Cheers ……..Doug
---