DELIVERY CHARGES
ONE PRODUCT DELIVERY $110 (Within Calgary)
Up to 12yds soil/mulch OR up to 10yds gravel/rock/sand
TWO PRODUCT DELIVERY $190 (Within Calgary)
Two product delivery applies to any of these orders:
MIXED
Up to 12yds soil/mulch AND up to 10yds gravel/rock/sand
SOIL/MULCH
Up to 12yds soil/mulch AND another up to 12yds soil/mulch

AGGREGATE
Up to 10yds gravel/rock/sand AND another up to 10yds gravel/rock/sand

PLEASE NOTE: our $190 two product delivery charge
is based on the ordering of multiple products or quantities of products.
It is NOT based on the type of truck(s) used by Soil Kings to execute delivery.
Soil Kings reserves the right to use the truck(s) of its choice
to make the two product bulk delivery effeciently within its daily schedule.
If drop location is a back alley,
please ensure no power lines are above your drop location.
NEXT DAY or later delivery is available. You pick the day!
ALL PRODUCTS ARE DELIVERED IN BULK. NO BAGS.
We drop the material wherever YOU want…please ensure there is enough space for our truck.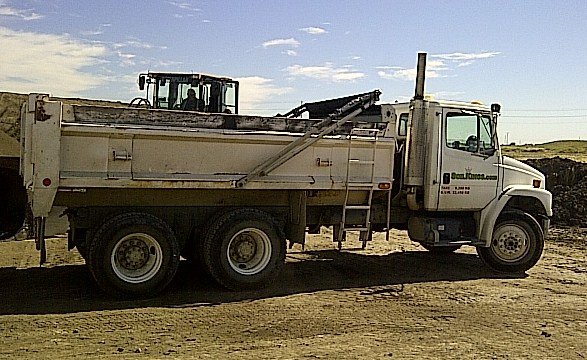 OUTSIDE CALGARY DELIVERY CHARGES:
Add $20: Okotoks, Dewinton, Elbow Valley West, Balzac
Add $30: Springbank, Bearspaw, Airdrie, Priddis
Add $60: Cochrane, Strathmore, Millarville, Bragg Creek, High River
All other out of town deliveries: charged by trucking time (hourly)
NO EXTRA CHARGE FOR LANGDON OR CHESTERMERE!
TO ORDER with your VISA or MASTERCARD, click BUY ONLINE
Call 403-452-LOAM ext. 1 with any questions or to place an order by phone.
Responsibility of Soil Kings Inc. ends at the city curb.
Customers instructing Soil Kings truck(s) to go on to their property
do so solely at the the customer's risk.
Want to pickup instead? Our Landscape Supply Yard is at 71 Technology Way SE — no appointment necessary.
All prices do not include GST
COMMERCIAL LANDSCAPERS PLEASE CALL
403-452-LOAM

FOR PRICES.